As an artist, I am seriously troubled by a local restaurant's choice to host a particular artist.
Clarification: I'm bothered by the artist's choice to present original art protected under copyright law specifically Hollywood characters. For those of you not in the know, these are the characters themselves in full makeup & costume: Jack Nicholson's Joker, Johnny Depp's Jack Sparrow, Clint Eastwood's Man w/ No Name, Gerald Butler's King Leonidas, & a couple others.
Some, like
Shepard Fairey in the Obama "Hope" poster
where he used a copyrighted AP photograph w/o proper attribution or royalties since the work is a derriative, will argue that it falls under
"the fair use" exception in the copyright code (Title 17)
. However, I do not share that intrepretation. The keys to the exception being in the context of "
criticism, commentary, news reporting, teaching, scholarship, and research.
"
But even if that weren't the case, I am doublely concerned that the artist made no attempt to create a "significant change". In the art world, that small change is enough to constitute the reinterpreted work as a new original. Marcel Duchamp's "
L.H.O.O.Q.
" is such an example. He painted a mustache on a postcard sized Mona Lisa, retitled it, and put it in a gallery setting. Because the Dadaist movement questioned traditional notions of art AND because he took the time to make it his own, the work and its message was become accepted.
As an artist w/ an academic background, I see it as the equivalent to artistic plagiarism.
We artists have enough problem with people intentionally ripping off our works w/o our permission. It breaks my heart knowing that the restaurant owner who is a supporter of local arts scene is unintentionally helping intellectual property theft.
I'm struggling how to tactfully broach the issue w/ the restaurant owner. If you have any suggestions, let me know.
*****
In other news...
*****
I'm choosing the following image because there's an interesting rip story that goes w/ it.
Some brainiac approached the model asking to work w/ her. Since he didn't have any work on the site, she asked for samples to get an idea of his quality. Low & behold he choses this one: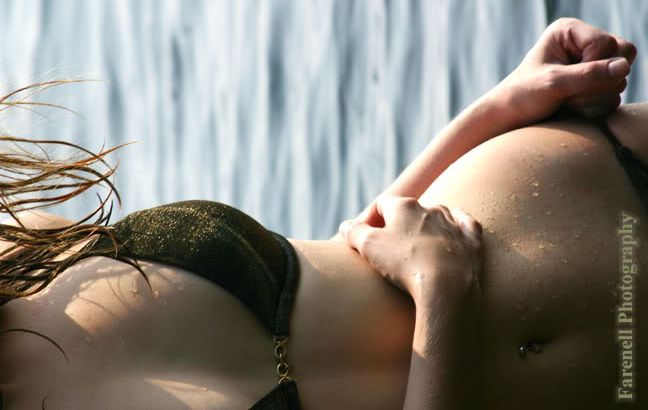 Little does he know that the shot he chose is one of her favorite images...of herself...by me. She reported the rip to the site administrators who were all happy to boot the bugger from the site.
Enjoy.