Last night I went to the
Banned Book week read-aloud
at the Rock Hill Bakehouse Cafe here in Glens Fall & was quite enjoyable. Its important to call attention to this because so many Americans are completely oblivious that stuff like this is alive & well in good ol' "free" America.
According to one of the lists brought to the gathering, I was quite proud (in that twisted sorta way) that the entire Harry Potter series has been the most heavily challenged book in the entire 2000 decade. Barbara Ehrenreich's "
Nickle & Dimed
" was banned somewhere in PA because "it promotes economic fallacies and drug use." Harper Lee's "
To Kill a Mockingbird
" recently rose UP the charts & banned because of "offensive language, racism, unsuited to age group." Any number of Judy Blumes remain banned at any given time. & how could we NOT ban Salinger's "
Catcher in the Rye
" (said w/ sarcasm). I discovered there's a certain lyricism to the work when read aloud that I never picked up on before. Might have to revisit it at some point in the future.
Here's the list if you wish to see what are the most challenged/banned
this past decade
or
the top 10 in 2009
.
This gathering also brought up some questions that I never thought to have considered. Banned Book Week was started by the American Library Association, yet so many libraries themselves simply don't acknowledge book banning or the event(s). It wouldn't surprise me in the least that they don't want to be seen as political & thus come under attack & thus lose taxpayer dollars due to community outrage. Its a shame.
Anyway, I brought Remarque's "
All Quiet on the Western Front
" mostly because it is a work that A. I actually owned & B. was a work that is still heavily banned in many places.
Its most notable banning was in Nazi Germany in 1933 & was publicly burned along w/ the rest of Remarque's works (sound familiar?). The Nazis produced propaganda claiming he was a descendant of French Jews, a claim that many biographies still perpetuate despite the lack of evidence.
I also chose the following passage because in my opinion it does a decent job reflecting what's going on in our society, specifically of those who have answered the call to fight. The more things change, the more they remain the same:
There are rumors of an offensive. We go up to the front two days earlier than usual. On the way we pass a shelled school house. Stacked up on its longer side is a high double wall of yellow, unpolished, brand-new coffins. They still smell of resin, pine, & the forest. There are at least a hundred of them.

"That's a good preparation for an offensive," said Mueller astonished.

"They're for us," growls Detering.

"You be thankful if you get so much as a coffin," grins Tjaden, "they'll slip you a waterproof sheet for your old Aunt Sally of a carcase."

The others jest too, unpleasant jests, but what else can a man do? - The coffins are really for us. The organization surpasses itself in that kind of thing.

Ahead of us everything is shimmering. The first night we try to get our bearings. When it is fairly quiet we can hear the transports behind the enemy lines rolling ceaselessly until dawn. Kat says they do not go back but are bring up troops - troops, munitions, & guns.

The English artillery has been strengthened, that we can detect at once. There are at least 4 batteries of 9-inch guns to the right of the farm & behind the poplars they put in trench mortars. Besides these they brought up a night of those French beasts with instaneous fuses.

We are in low spirits. After we have been in the dug-out for two hours our own shells begin to fall in the trench. This is the third time in four weeks. If it were simply a mistake in aim no one would say anything, but the truth is the barrels are worn out. The shots are so often so uncertain that they land within our own lines. To-night two of our men were wounded by them.
**********
In other news...
**********
This here is Jenny.
It was great working w/ her because she had this theater background where you could just give her some general directions & she'd completely go to town w/ it. People like that make my job easy. It also didn't hurt that the rapport I depend on was near instantaneous. This is unusual for a first time working w/ someone new.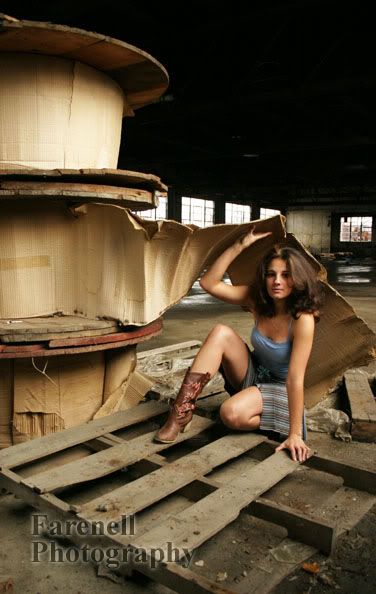 Feel free & comment away on any part of this if you so desire.