Anyone who knows me will happily testify that my crappy Red Sox have been breaking my heart since 1988. They've been punishing my psyche for so long that when they do win, I'm waiting for them to blow it somehow.
I was disappointed in hearing of left fielder
Jason Bay's signing w/ the New York Mets
. At the same time it doesn't surprise me, nor am I losing THAT much sleep over it. There are simply some teams out there that are so poorly run from the top down, you just kinda know that if a big free agent goes there, they're doing it simply for the paycheck. I don't blame them & it reinforces the comedic fodder in 3 years when (insert the free agent of your choice) demands to be traded because he want to win. A-Rod, I'm looking in your direction.
So w/ Bay's signing, he joins the "stellar" lineup of Carlos Beltran, Jose Reyes, & Carlos Delgado. This is the same team that finished 70-92, 23 games behind the division rivals & pennant winning Philadelphia Phillies.
Is anyone willing to bet against me that the Mets will still have yet another crappy season in 2010?
*sigh*
In other news...
Below is a picture of Lauren & Leeann playfully reinterpreting
Gordon Park's legendary "American Gothic"
where he himself was reinterpreting
Grant Woods' 1930's piece of the same name.
It was a very spontaneous shot, nothing overly thought out but certainly fits into to my tongue-in-cheek creative nature.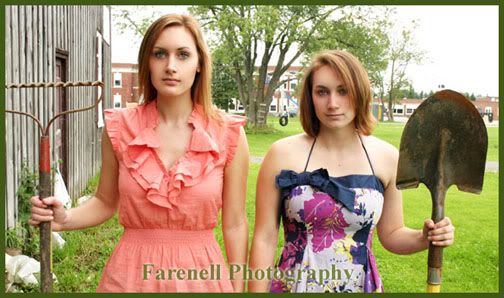 Feel free to opine if you so choose.