In late January, the Komen Foundation (one of the biggest nonprofits promoting Breast Cancer Awareness) took the controversial step of publicly revoking its donational support to Planned Parenthood, the reason being PP is an abortion provider & Komen doesn't support abortions. Because the uproar was fueled by member outrage on social media, Komen not only quickly backtracked but their Vice President, Mollie Williams (who is perceived to have led the anti-abortion charge) quickly resigned.
I also stumbled upon this GMA interview of former Victoria Secrets model Kylie Bisutti. (Link is below):

http://gma.yahoo.com/video/fashionbeauty-26594250/lingerie-model-discusses-shocking-exit-off-runway-28244133.html
She entered the public conscience when she won an open competition held by the company, beating out over 10,000 prospective models. She's making news now because she's giving up Victoria Secrets gig & aiming for something more wholesome.
The question I'm asking is, couldn't there have been a better way?
Why am I bringing up these two seperate incidents? Allow me to digress.
Realizing the extent of the public outrage, Komen quickly reversed their descion. They could have acheived their objections in distancing themselves from an abortion provider by quietly withdrawing their donations. But instead, they had to make a splash & make it public thus insuring outrage but also making it a POLITICAL statement.
What did they get out of it? They're still paying PP for cancer screening (money which would not have gone to abortions because of the terms of those donations). But in the process, they lose their credibility. The Foundation can't claim to be the preeminent nonprofit interested in only promoting breast cancer awareness if they contract their elligibility pool. Nor was their founder's performance in explaining their rationale whe she appeared on Andrea Mitchell's program (the interview link is below)
http://firstread.msnbc.msn.com/_news/2012/02/02/10303379-andrea-mitchell-interviews-susan-g-komens-nancy-brinker
As for Kylie Bisutti, I'm still scratching my head. If a person changes their mind, that's their business. But her justification that "(her) body is only for her husband" left me wincing. What is this like 1955? Don't even get me started that she's also doing it to "honor God". She certainly had no quams about showing off her body when she beat out her competitors (even going so far as saying "I want this, and I'll do what it takes to get it."). Nor did she have quams taking such gigs when it accompanied a big fat modeling contract. She could have easily shifted to more wholesome stuff & no one would have cared. But by making a big splash, it didn't become about her or her husband or her religious beliefs. It became about her ego. Last time I checked the Bible, hubris was a pretty big sin.
**********
In other news...
**********


This is one of my muses (its not a term I use lightly).
She earned that name by how she found me. Back during my undergrad, I posted a series of flyers "Seeking a Muse" citing the various benefits. "Eternal glory" was one of the perks. I did it more as a lark than anything else. Anyway, she found & responded to the flyer & we worked together MANY times before she transferred.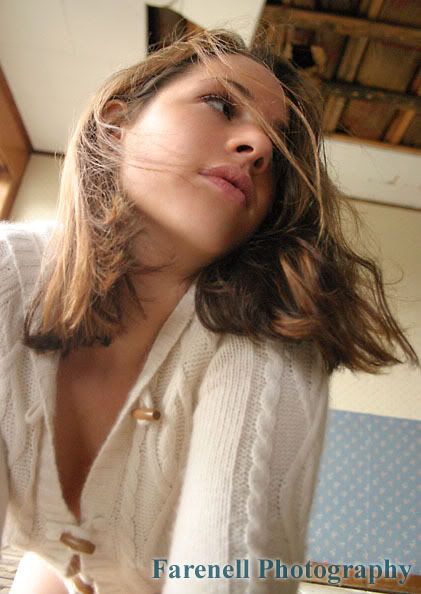 If you wish to comment away on any part of this entry, feel free to do so.