Like everyone else in the country, I am truly shocked & horrified at yet another senseless shooting this past Friday at an elementary school in Newton, CT. You will eventually hear my own thoughts on this but at the moment, I'm still trying to process & articulate what I want to say.
In the meantime I'm bringing you something constructive. Bringing to light another tragedy that is equally horrific to those involved & how they've chosen to deal with the situation.
Its called
"Project Unbreakable"
. Giving you the short version, its a campaign addressing & combating sexual violence & assault.
Below is a YouTube video from the founder.
As a photographer, I'm impressed with its simplicity. No elaborate concepts, no fancy illustrative reenactment of the violence. Just the victim & a placard w/ the words the perpetrator used in quotes. The very definition of the K.I.S.S. Principle (keep it simple, stupid).
Its revolting to read what the perpetrator says. Its even revolting to read what people have said who are SUPPOSED TO BE supporting the victim, people like family & law enforcement.
Its nice knowing a project that starts as simple as helping a friend can completely take on a life of its own in a good way.
**********
Moving on...
**********
As a photographer, its an extra special treat working w/ people on an unintentionally long-term basis. You're blessed with being a part of the big moments in their lives. See them find love (& sometimes heartbreak), get hitched, start a family, sometimes even seeing those family members grow up & having them in front of my camera.
Ceri is one of those people.
This was taken back in 2008 for my never-ending Abandonment Project. The locations may change but my interest in the visual contrast between the "dirty, blah" environment (something most people overlook) juxtaposed against the "pretty" model hasn't.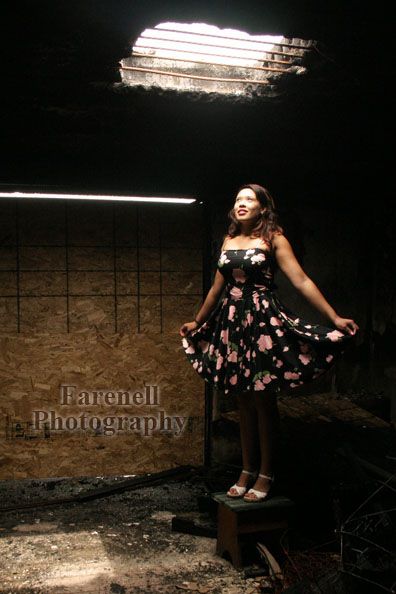 Feel free to comment away if you so desire.